07 Oct

Exciting PhD findings for Prof Steve Perkins' lab and EMBO membership for Prof Corrine Houart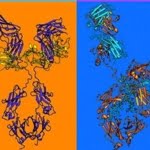 We are pleased to report that Valentina Spiteri excelled in her PhD under Professor Steve Perkins. In other news, former Scientific Advisory Committee member, Professor Corinne Houart, has been elected as an EMBO Member.
Valentina Spiteri excels in PhD under Professor Steve Perkins
Professor Steve Perkins' student, Valentina Spiteri, spent her PhD researching the role that glycans (sugars) play in the structure and stability of antibodies.
Her work has shown that the binding of glycans onto antibodies plays a key role in their interactions with immune receptor cells. It also demonstrates how a unique combination of different techniques can be used to study biological and chemical systems.
The research set out to reveal how sugars bound to IgG1 antibodies help direct them to the correct receptor. In an effort to understand this, Valentina's work involved the use of a number of different analytical techniques.
Co-funded by UCL, the Diamond Light Source synchrotron, and the ISIS Neutron Facility at the STFC Rutherford Appleton Laboratory, Valentina measured the antibodies with and without sugars using the Small Angle Neutron Scattering (SANS) facility at ISIS. She also measured them using analytical ultracentrifuges at UCL and the BL21 Small Angle X-Ray Scattering (SAXS) instrument at Diamond Light Source in Oxfordshire.
Combined with computational modelling, Valentina's unique approach found that sugars hold the Fc region of the antibody in one conformational position to favourably shape its interactions with immune cells.
"The findings from my PhD are exciting, and it is very rewarding to see these publications out in the world," says Valentina. "I learnt so much from working with Professor Perkins, and this training and foundation will no doubt stand me in good stead in my current endeavours at the University of Dundee and beyond."
The paper, "Solution structure of deglycosylated human IgG1 shows the role of CH2 glycans in its conformation", was published in Biophysical Journal in May 2021, and made the journal's front cover.
Published separately in September, a paper in Journal of Biological Chemistry that also made the journal's front cover revealed how Valentina's work used a similar strategy to provide the first atomic-level structural model for the human IgG3 antibody.
Valentina and Steve hope that the antibody industry can use the findings to further exploit antibodies for new therapies and tests.
Valentina is now a post-doctoral researcher at the University of Dundee where she is involved with the development of proteolysis targeting chimaeras (PROTACs). This project seeks to create a new class of drugs for treating cancer.
Professor Corinne Houart elected as EMBO Member
Former Scientific Advisory Committee member, Professor Corinne Houart, will later this month be formally welcomed as a new European Molecular Biology Organization (EMBO) Member.
Corinne, Deputy Director of the Centre for Developmental Neurobiology (CDN) and Professor of Developmental Neurobiology at King's College London, has joined a global community of more than 1,800 leading life sciences researchers.
"The EMBO is a transformative force in maintaining research excellence and international exchanges across Europe," says Corinne. "I'm delighted to join its membership, and I'm looking forward to supporting its activities and participating in shaping European research."
EMBO's members play a key role in influencing the direction of life sciences research in Europe and beyond.
Corrine was a member of the Scientific Advisory Committee from 2014-2019. She is regarded as an international expert in early vertebrate brain development. She started her laboratory at King's College London in 2001. Here, her team continue to work on deciphering the cellular, molecular, and morphogenetic mechanisms building the forebrains of zebrafish, mice, and humans. Their work has established the use of genome editing in zebrafish at the university.
Corinne's lab currently focusses on deciphering the non-nuclear role of RNA processing proteins in development and maintenance of neurites and synapses. This research has revealed insights into motor development and degeneration, such as ALS. Corinne's research has also led to increased understanding of the development disorder Foxg1 syndrome.
You can read more about the Houart Lab's research here.