27 Sep

The Lister Institute's Annual Meeting 2021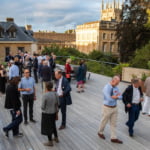 On Thursday 9 and Friday 10 September, the Lister Institute held its Annual Research Fellowship Meeting and AGM. As in previous years, proceedings took place within the beautiful walls of Corpus Christi College, part of the University of Oxford.
This year's action-packed agenda certainly made up for the lack of a meeting in 2020, amidst the COVID-19 pandemic. For most attendees, this was the first face-to-face event for many months. This was reflected in the celebratory and convivial mood across the two days.
Proceedings were also live cast over Zoom for those not able to attend in person.
Lecture from Professor Wolf Reik: Single cell multi-omics landscape of development and ageing
A lecture from Wolf Reik of the Babraham Institute followed a warm welcome from Professor Sir Alex Markham. Wolf was funded by a Lister Prize between 1987 and 1993.
Wolf gave us a rundown of his research in spatially resolving patterns of gene expression for mouse cell atlases and his lab's work to create a map of mouse organogenesis. He touched on the topic of how the embryonic genome is activated: "Get back to me in 20 years," he joked.
He discussed their study of epigenetic reprogramming and their efforts to create a "cell fate model" that could potentially make predictions about cell fate in human development. He also talked about the Reik Lab's ongoing research into reversing the ageing of cells through reprogramming iPS cells: "how can cells halfway to pluripotency remember that they're fibroblasts?" This may have implications for wound healing and ageing.
Talks by winners of the 2020 Research Prizes
Dr Tomás Ryan, Trinity College Dublin: Gone or misplaced? Retrieving infant memories in adults
Tomás talked about his neurobiological research, which labels memory engrams to show the information they encode and to look at the real-time activity of these cells in living animals. His work looks specifically at infant amnesia – the memories from out first few years of life that we all lose and has been able to reactivate these infant memories in adult mice.
"The dogma was that these memories degraded, but I propose that amnesia is just a severe point on a spectrum of memory accessibility," he said. "Natural forgetting may be a functional activity rather than a bug in the brain."
Dr Stephan Uphoff, University of Oxford: Imaging DNA repair and mutagenesis in bacteria
Stephan talked about the complexities of DNA and mutagenesis, and how his lab is developing single-molecule imaging to view this in live cells, such as E.Coli. This research is bringing to light how enzymes find their targets of DNA to repair –something which remains unclear.
He is using his Lister funding to explore how oxidative stress causes a mutation burst. His work is incredibly relevant to understanding and tackling antibiotic resistance.
Dr Rebecca Lawson of the University of Cambridge and Dr Hayley Sharpe of The Babraham Institute were unable to attend. We look forward to hearing them speak next year!
On Thursday evening, we enjoyed an excellent poster session, presented by twelve of the students who participated in a Lister Summer Studentship this summer.
Ella Taylor-Cross, Olivia Sherwin, Anna Simmons, Shail Bhatt, Rio Wood, Yuqing (Clara) Chen, Ben Lawrence, Anna Cochrane, Max Phippen, Olivia Hill, Adrianna Banducci-Karp, and Andrew Higginson all presented posters. Over drinks and a buffet, attendees had time to speak with the students and ask them more about their research projects.
We were delighted that the students were able to join us for the Meeting and hope they found it inspiring!
Talks by winners of the 2021 Research Prizes
Dr Tanmay Bharat, University of Oxford: In situ studies of the functional organisation and inhibition of the BAM complex in gram-negative bacteria
Tanmay studies the structural biology of biofilms. He showed us the incredible detail with which his newly developed techniques can resolve structures in cells, and how this can provide information about what is happening on the surface cell layer of bacteria.
He explained that the Lister-funded part of his work will focus on studying cellular structure down to the level of atomic detail, and how these techniques could help work out antibiotic targets on bacteria.
Professor Ravindra Gupta, University of Cambridge: Cell cycle regulation in macrophages
The focus of Ravi's work is in studying macrophages and their role in HIV infection. His research has revealed the stages of the cell cycle at which macrophages are infected with HIV, and consequently shown how infection could be prevented in these cells. He is using Lister funding to understand what the physiological drivers are for cell cycle arrest. His work may also have implications for cancer.
Dr James Lee, Francis Crick: From SNPs to biology in inflammatory diseases
James outlined the urgent need for better treatments for inflammatory disease and outlined his belief in the unfulfilled potential of genome-wide association studies (GWAS) in identifying gene targets.
His "fine mapping" approach assesses all SNPs for whether they have causal impact – a method that can be done at great scale in a single experiment.
Professor Rickie Patani, UCL/ Francis Crick: Capturing compartmental chaos in motor neuron disease (ALS)
Rickie uses iPS cells derived from patients. Methods created by his lab generate 90% pure spinal cord motor neurons in three weeks. In studying these cells, Rickie and his team have found that the TDP-43 binding protein is mislocalised in these cells, leading to cell death and have been studying its molecular interactions with other proteins in more detail.
They believe that intron-retaining transcripts "drag" proteins into the cytoplasm. Rickie's Lister-funded research aims to reveal more about this, which proteins are involved, what happens to their function and localisation, and how RNA-binding occurs. He hopes this work offers fresh mechanistic insight into motor neuron disease, and it may also be relevant to Alzheimer's disease and ageing.
Dr Stineke Van Houte, University of Exeter: Developing new tools to tackle antibiotic resistance
Stineke described antimicrobial resistance as a "slow-spreading global pandemic." Her work down in Cornwall is developing CRISPR-Cas9 as a tool for targeting this, by studying complex, realistic microbial communities.
Her research demonstrates that inserting CRISPR-Cas9 into plasmids resensitises a range of bacteria to antibiotics. They are seeking out the best "phage cocktail" for getting plasmids into bacteria, engineering plasmids, measuring their effectiveness in gut cells, and creating an in vivo model of preventing infection, working towards a clinical use.
Dr Christopher Stewart of Newcastle University was unable to attend. We eagerly anticipate his talk in 2022.
Friday evening's reception saw Professor Sir Alex Markham present the Lister Prize to the 2021 and 2021 Fellows who were present. Congratulations to them all!
Talk by Professor Victoria Cowling: Targeting the RNA cap
Victoria became a Lister Fellow in 2011 and spoke about how her work at the University of Dundee has been developing since then. Her research studies how formation of the RNA cap  changes in cancer, immunological, basal, and developmental states. Much of this work focuses on the role of RNMT – an enzyme that plays a key role in the process by binding to the cap. She is now looking at mouse cancer models to work out why some genes need RNMT and why some do not.
Special Lister Lecture from Professor Doug Higgs: "Switching genes on and off in health and disease."
Doug, Professor of Molecular Haematology and Director of the Weatherall Institute of Molecular Medicine regaled everyone with anecdotes from his long and illustrious career as a biomedical scientist. He talked through his discoveries of the multigene clusters that regulate haemoglobin production and reviewed how his lab worked out the genetics underlying the common form of anaemia, alpha thalassaemia, which is carried by hundreds of millions of people. His work has contributed to the identification of many genetic mutations, preventing many babies being born with this potentially fatal disease.
Doug moved on to discuss his ongoing research that explores epigenetics, looks at the interactions between enhancers and promoters and the mechanisms by which they regulate gene expression, and creates real-time "snapshots" of gene expression.
Inspiring the UK and Republic of Ireland's biomedical community
Held every year (pandemics aside) the Annual Meeting is a fantastic opportunity for our members – including current and former Fellows, Governing Body members, Scientific Advisory Committee members, trustees, and staff – to unite in sharing and celebrating the work enabled by the Lister Institute.
We believe that this opportunity to meet, share ideas, and build connections forms part of the immense value we bring to the biomedical research community.
All the photos shared here were taken by Steven O'Gorman.