13 Jul

Musical chairs: We bid farewell to our Chair, Alex Markham, and welcome both his replacement and the new SAC Chair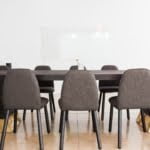 The warmer months have heralded some major changes here at the Lister Institute.
As Professor Sir Alex Markham's tenure as Chair comes to an end, he will be succeeded by Professor John Iredale. And in turn, Professor Julian Blow will replace John as Chair of our Scientific Advisory Committee.
Professor Sir Alex Markham ends his tenure as Chair
Professor John Iredale is preparing to take the helm as the Chair of the Institute, moving on from being the Chair of our Scientific Advisory Committee (SAC) – a position he's held since 2018.
"As the SAC Chair, it's been a joy for the committee members and I to get to meet so many bright young minds, eager to discuss their science and their ambitions," says John. "Indeed," he adds, "my only abiding regret of holding that position is disappointment that we cannot support more Prize Fellowships each year."
John, currently the interim Executive Chair of the Medical Research Council, takes on the role from Professor Sir Alex Markham, who he praises for "a simply outstanding job" during his 11-year tenure. "He has left large shoes to fill. I look forward to trying to fill those shoes and to support the Institute as we move forward."
"Alex has poured his energies and intellect into making the Institute the thriving and vibrant organisation it is – revolving around and orientated to the support of science and its extraordinary Fellowship.``
Alex humbly describes his tenure as Chair of the Lister as a "steady and patient" approach and pays respect to his predecessor, Dame Bridget Ogilvie: "Bridget deserves enormous credit for the way she stabilised the Lister. She set us on course and really all I've tried to do is to keep the ship steady. By being patient, our funds have increased about fourfold."
Director, Sally Burtles, said: "Alex has been an excellent Chair of the Lister Institute. During his tenure it has grown from offering three Prizes a year to regularly awarding six and occasionally seven Prizes. This year we were delighted to award a new record – eight Prizes. It has been a pleasure and a privilege to work with Alex and I have appreciated the support and wisdom that he has so generously shared."
Alex sends his gratitude and thanks to former Directors, Dr Trevor Hince and Kate Law, current Director, Sally Burtles, and former and current Operations Managers, Naomi King and Nicola King, who have all offered him so much support over the past decade.
Announcing our new Chair of the Scientific Advisory Committee
Replacing John as the Chair of the SAC is Professor Julian Blow, Dean of the School of Life Sciences at the University of Dundee. Julian is a Fellow of the Royal Society of Edinburgh, a Fellow of the Academy of Medical Sciences, and a member of EMBO.
As a member of the SAC since 2019, Julian is "absolutely delighted" to take on this new position – particularly because of his own longstanding association with us here at the Lister.
When Julian first set up his own independent research group in 1989, he was awarded a Lister Fellowship. He cites this as "transformative" to his career, "not only because of the financial flexibility it provided, but also because it introduced me to the network of Lister Fellows, who helped me navigate the difficult early years of being a group leader. To this day I have many friends and colleagues amongst the Lister community whom I enjoy meeting up with at the Annual Meeting."
"The process of selecting the next cohort of Lister Prize Fellows is both a difficult and rewarding task because of the extremely high standard of applications that we receive. As a committee member there is also immense pleasure in seeing how the research and careers of our Fellows develop and prosper."
"On a final note, I'd like to thank John Iredale for the fantastic job he has done in this role before me and hope that I can match the wisdom, insight and good humour that he brought to the role."
We cannot thank Alex enough for his great contributions and dedication to making the Lister Institute what it is today. We are publishing a feature about his life and work to date in our soon-to-be-released Annual Report, so keep an eye out for that!
We are delighted to be joined by Julian, and to see John stepping into his new role with such enthusiasm. Here's to the future!