28 Apr

Getting up-to-date with Prize Winners' Presentations in Dublin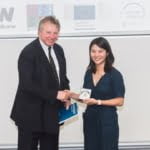 It's the season of Lister Prize Winners' presentations. Today and tomorrow, we will be in Dublin to celebrate the success of Tomás Ryan and to encourage more researchers based in Irish institutions to apply for the Prize.
The COVID-19 pandemic still has us slightly on the back foot, with a two-year backlog of Lister Prize Winners' presentations to help organise and attend!
Tomorrow, it's the turn of Tomás Ryan. Our Director, Dr Sally Burtles, our Chair, Prof Sir Alex Markham, the Chair of the Scientific Committee, Professor John Iredale, and the Hon Rory Guinness, a member of the Governing Body, will be visiting Dublin for the event. Based at Trinity College Dublin, his lab researches the biological mechanisms underlying memory formation, storage, and loss in the brain.
This is an occasion to be especially celebrated, because Tomás is the first early career researcher from an institution in the Republic of Ireland to win the Lister Prize.
We have previously awarded several Fellowships to Irish researchers, but they have always been working at UK institutions at the time.
After announcing Tomás as a Lister Fellow, Rory said: "The award of a Fellowship to Dr Ryan is an immense and historic moment in the life of science in these islands. Edward Cecil Guinness made the original bequest to Joseph Lister. He understood the problems of insanitary conditions in the brewing process. He also had immense concern for the well-being of his fellow citizens. With amazing vision, he invested a large part of his fortune to pioneer medical research through the Lister Institute and in social housing through the Guinness Trust in the UK, and the Iveagh Trust in Dublin."
Today (28th April), Sally, Alex, John and Rory are holding an event at McGraths Pub in the city, where they will be chatting informally to prospective applicants, students and researchers. We hope this will help encourage further applications in future from this part of the British Isles.
We look forward to returning to Dublin following our earlier trip in 2018. Back then, we were on a mission to promote the opportunities offered by the Lister Fellowship, and to encourage researchers based in Ireland to apply. Indeed, Tomás won the Prize two years later.
Presentations past and future
Three other Prize Winners' presentations have already taken place over the spring, and we look forward to another three in the summer months.
We visited the Crick Institute in January to see 2021 Fellows Rickie Patani and James Lee give their Prize Winners' presentations. 2020 Fellow Stephan Uphoff gave his presentation at Oxford University in March. Sally and Alex were delighted to be there to watch and formally present Stephan with his Lister Prize.
At the start of April, Christopher Stewart – one of our 2021 Fellows – gave his lecture at the Faculty of Medical Sciences, Newcastle University. Alex attended to formally presented Christopher with his Prize.
Last week, Alex and Sally were also in attendance at Yanlan Mao's presentation at the UCL Laboratory for Molecular Cell Biology. Yanlan became a Lister Fellow back in 2018.
The remaining outstanding Prize Winners' presentations are happening in June. On the 14th, we'll be hearing from 2021 Fellow Stineke van Houte. And on the 21st, two other 2021 Fellows, Tanmay Bharat and Ravi Gupta, will be presenting their work.
We'll be posting photos from all these events on our Twitter and LinkedIn accounts.